Example Company Landing Page for Employees

Example Company Dashboard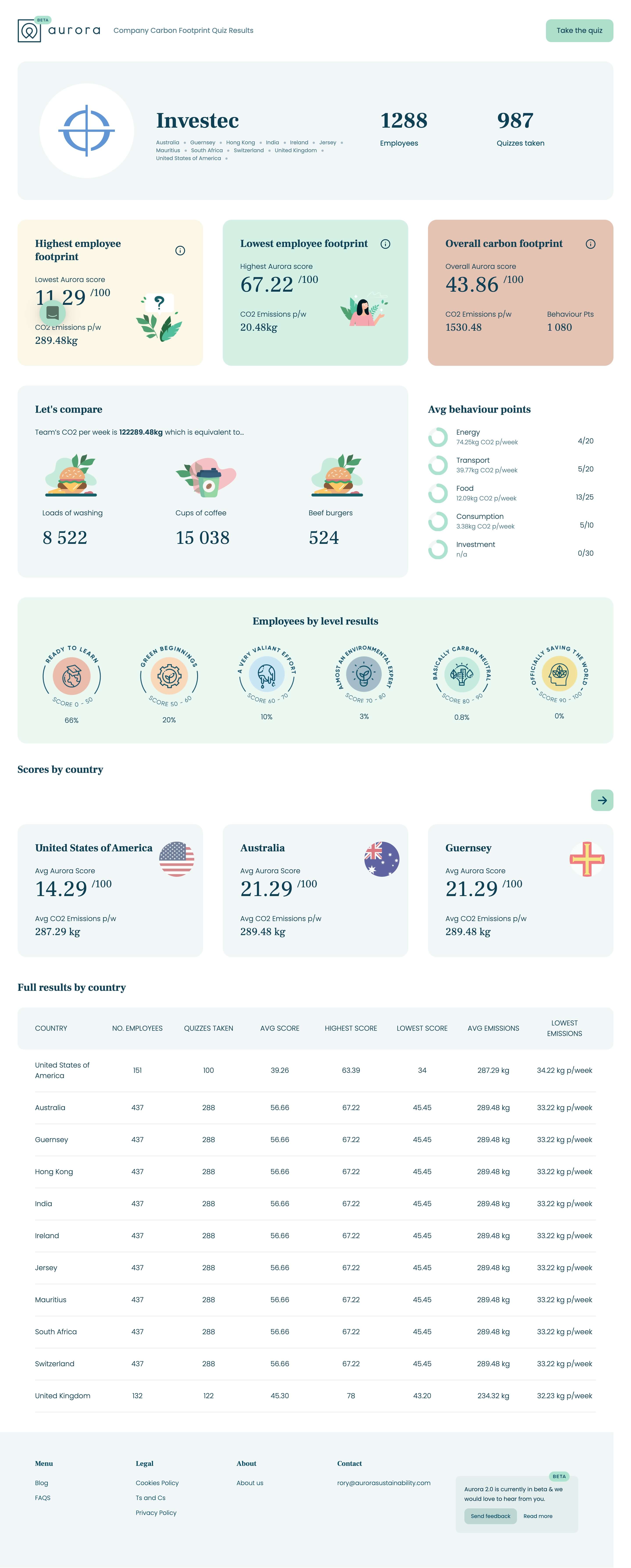 ‍
In an era where the clamor for corporate sustainability reverberates through the boardrooms to the shop floors, Aurora for Organizations stands as a beacon of corporate accountability. Our endeavor was to create a digital platform that would serve as a conduit for organizations to navigate through the sea of sustainability goals, measuring, and honing their impact on both a corporate and community level.
Aurora for Organizations is a part of the larger Aurora Sustainability ecosystem, aimed at NGOs, cities, municipalities, and companies. This endeavor was not just about constructing a website but about fostering a digital interface that reflects the core ethos of Aurora - creating a sustainable footprint.
Our journey commenced with understanding the core mission of Aurora for Organizations - to help entities meet their sustainability goals by measuring the impact of people within companies and cities, enabling improvements to be made and tracked.
The website was envisioned to be a mirror reflecting the ethos of corporate sustainability. With sections dedicated to providing insights for companies and cities, the platform was meticulously designed to cater to the unique needs and challenges faced by different types of organizations.
One of the stellar features of the platform is the client dashboard populated with live scores from the Aurora quiz when employees engage with it. This feature not only promotes a culture of sustainability among the employees but also provides a live tracking mechanism for the organizations to measure and improve their sustainability metrics.
Moreover, the website hosts an interactive animation and live stats feature, making the sustainability journey engaging and insightful. The animations, especially the car and bus, are not merely visual elements but a narrative, illustrating the impact of collective efforts towards sustainability.
The website was more than just a collection of pages; it was a narrative showcasing the journey of organizations as they stride towards their sustainability goals. It was about creating an engaging interface where the metrics of sustainability are not just numbers but stories telling the tale of an organization's journey towards creating a sustainable footprint.
Employing the prowess of Webflow, we stitched together a digital narrative that is as engaging as it is informative. The user interface was crafted to ensure a seamless journey through the various facets of Aurora for Organizations, making sustainability tracking an engaging and insightful experience.
Our collaboration with Aurora for Organizations was a voyage into the heart of corporate sustainability, crafting a digital narrative that resonates with the ethos of accountability and continuous improvement. It was about creating a digital space where organizations could measure, learn, and improve their sustainability efforts, fostering a culture of accountability and sustainability.
‍
Illustrations by hellomisterfrank.com.