Why Us Page

About Us Page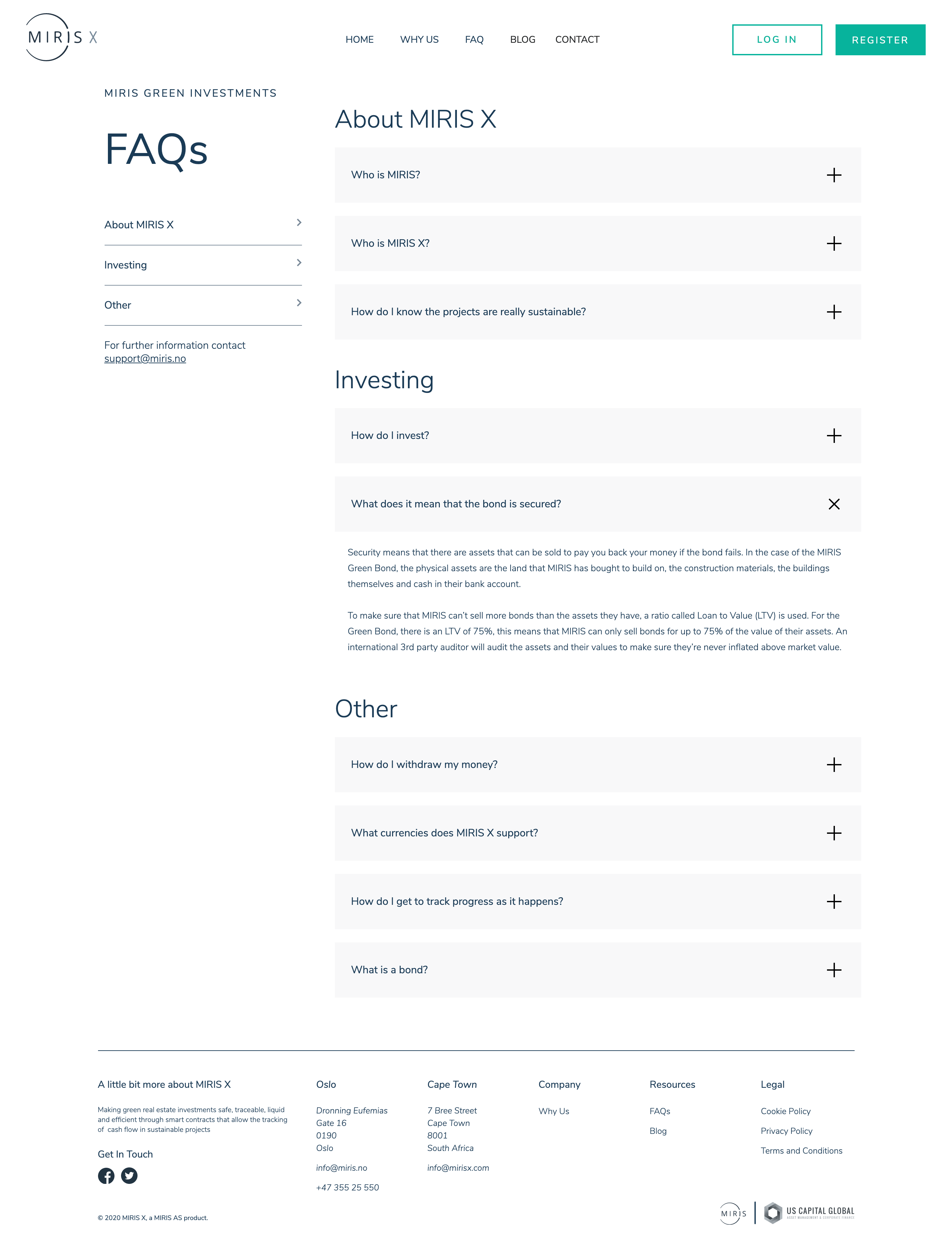 The UI Kit
‍
In a financial landscape where sustainability is no longer a choice but an imperative, MIRIS X emerges as a vanguard of sustainable investments. Our partnership with MIRIS X was not just about crafting a digital facade but building an interactive platform that breathes the ethos of sustainable financial growth.
MIRIS X is a custom-built sustainable investment platform that transcends traditional boundaries by meticulously tracking how funds are utilized in sustainable projects across the entire supply chain. This venture was an exciting confluence of finance and sustainability, where every dollar invested is accounted for, not just in terms of financial returns but its ripple effect on the environment and society.
The core of MIRIS X is its robust mechanism that monitors project finances, progress, and impact. This isn't just a passive tracking system but a dynamic dashboard where data tells a story, a story of how sustainable investments are carving a better tomorrow.
Our design journey was interspersed with challenges and exhilarations. It was about creating a digital realm where investors, regardless of their magnitude, could see the tangible impact of their investments. It was about creating an interface that was not just visually appealing but carried the gravitas of sustainable finance.
One of the cornerstones of this project was the 'Why Us' page. It wasn't just a page but a manifesto of why MIRIS X stands as a reliable steward in the realm of sustainable investments. It was a narrative that underscored the synergy between financial growth and sustainable practices.
The distinct feature of MIRIS X is its capability to provide a panoramic view of the investment landscape while drilling down to the minutiae of every project. This feature was not just about providing data but offering insights, insights that empower investors to make informed decisions.
Employing the prowess of Webflow, we engineered a digital platform that is intuitive, interactive, and insightful. The user interface is not just a gateway to financial data but a window into the world of sustainable investments.
Our expedition with MIRIS X was more than a project; it was a manifesto of what's achievable when finance marries sustainability. It was about creating a digital narrative that resonates with the modern-day investor who is as concerned about the ROI as they are about the footprint they leave behind.