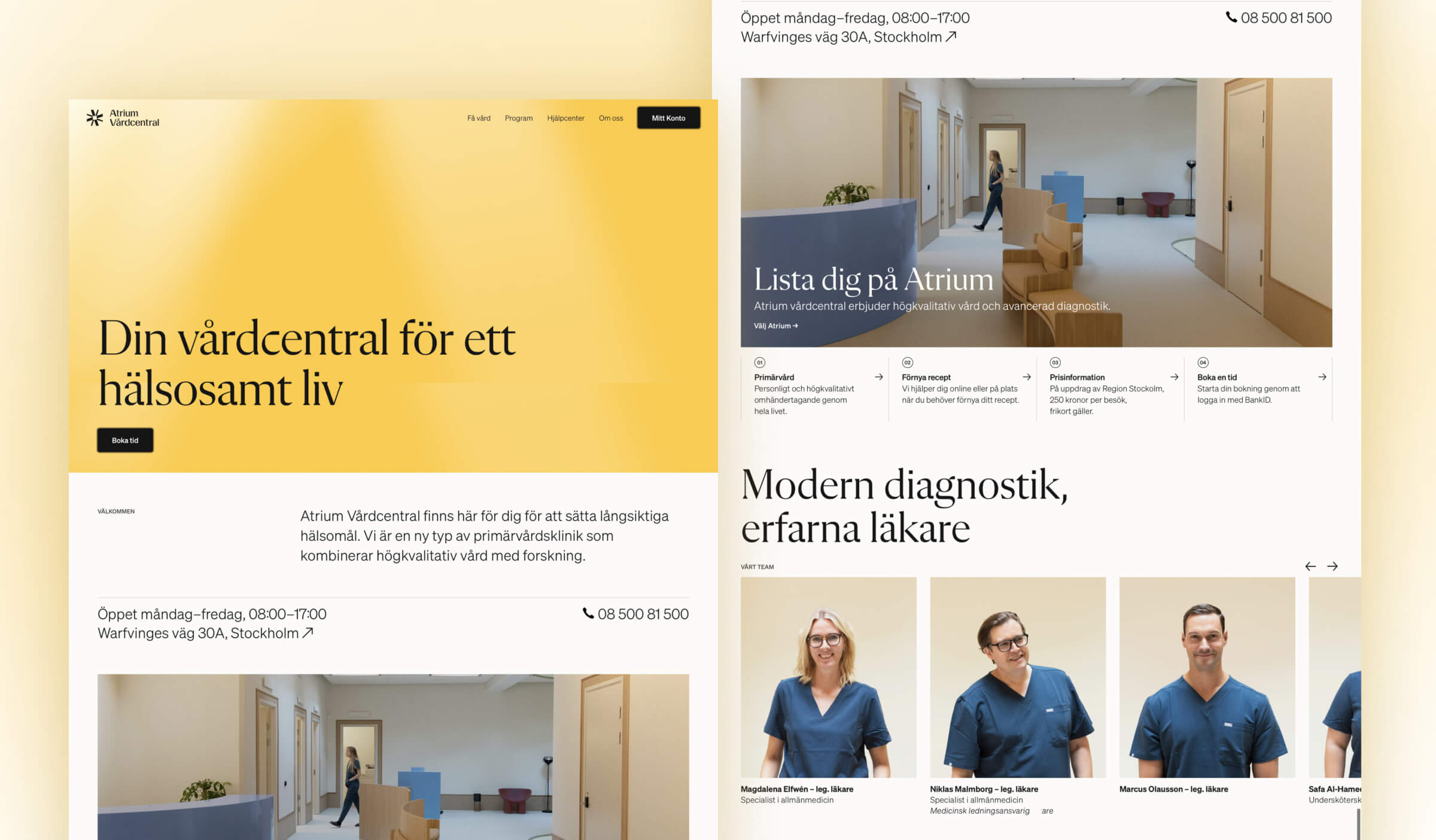 Main Pages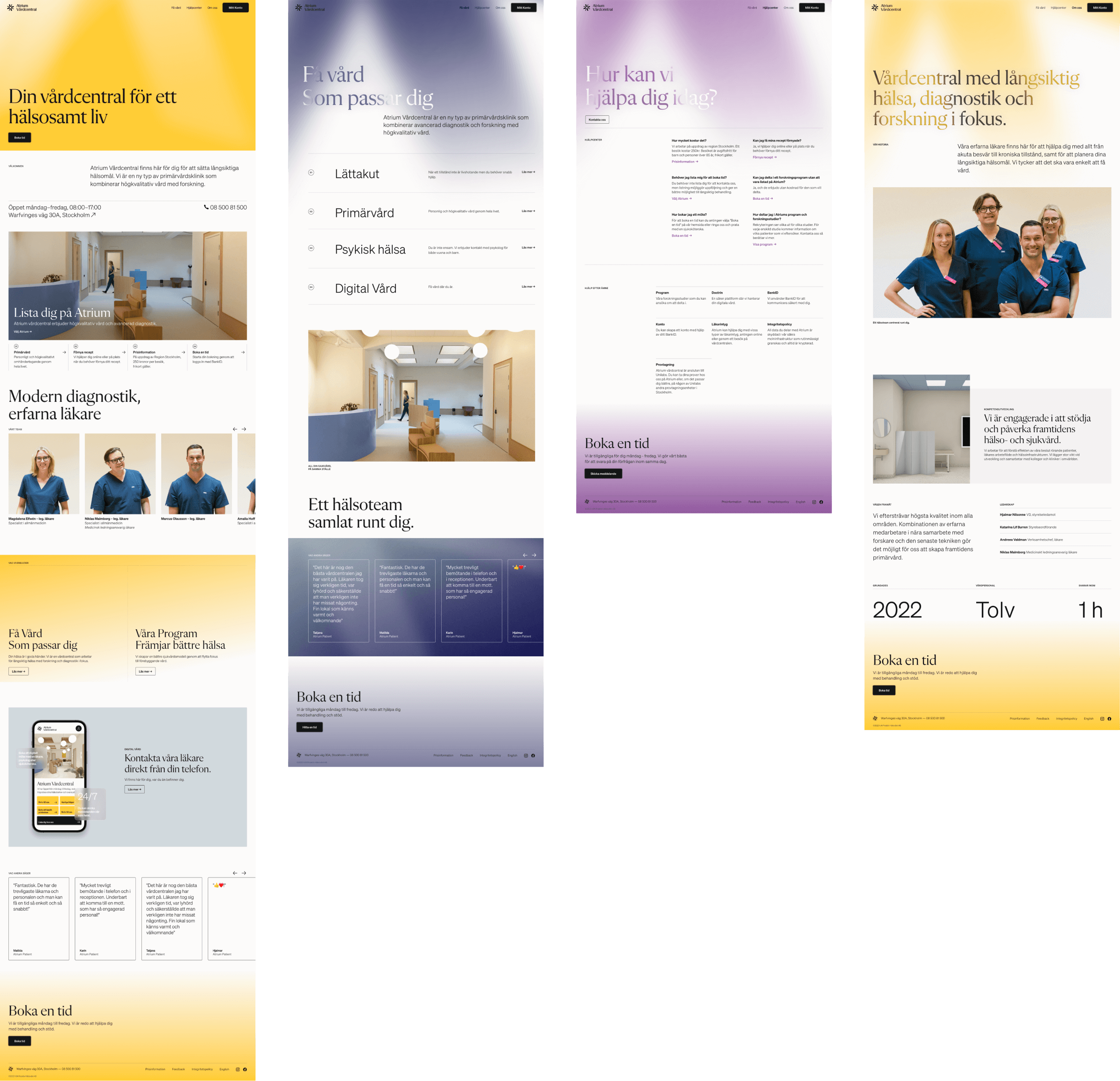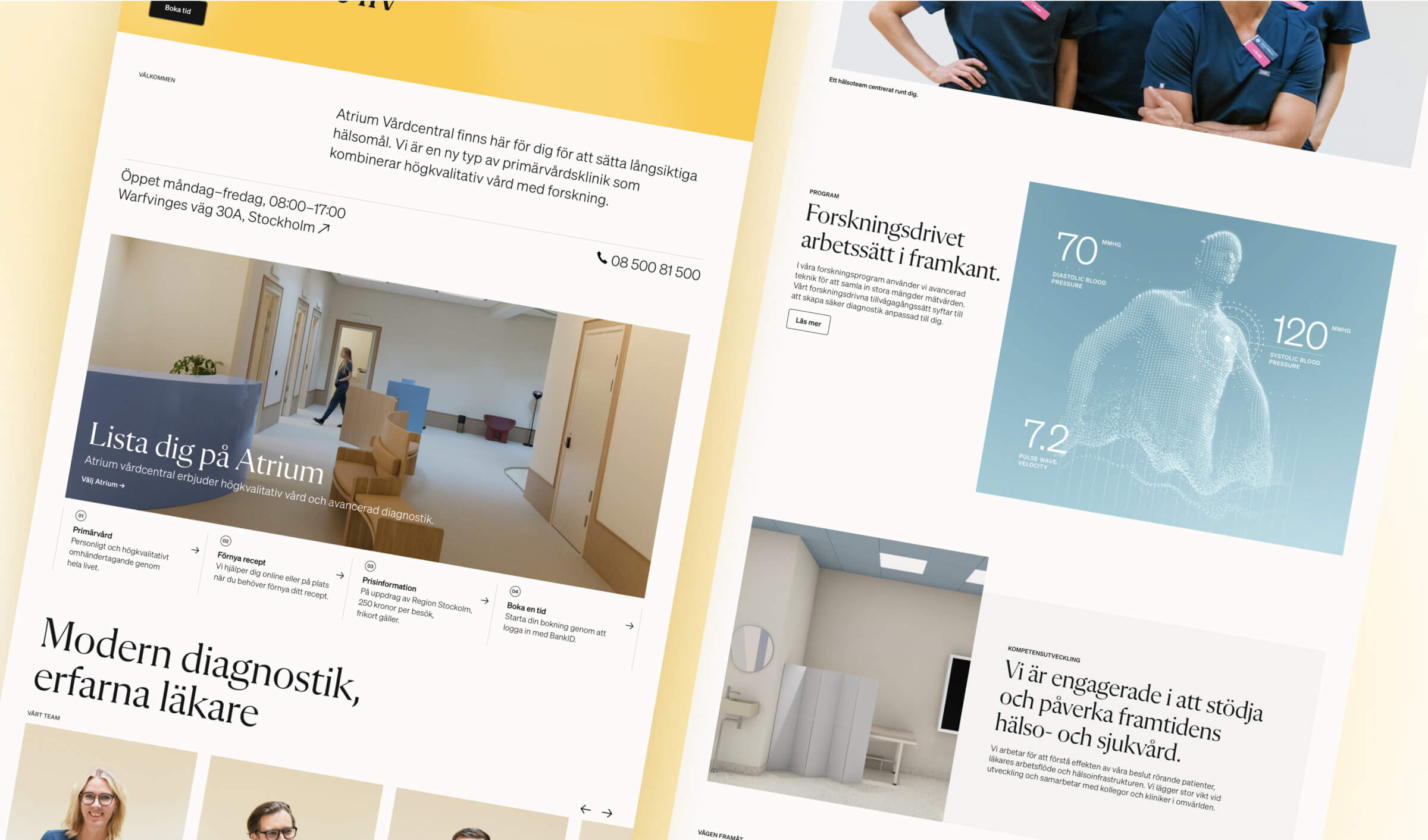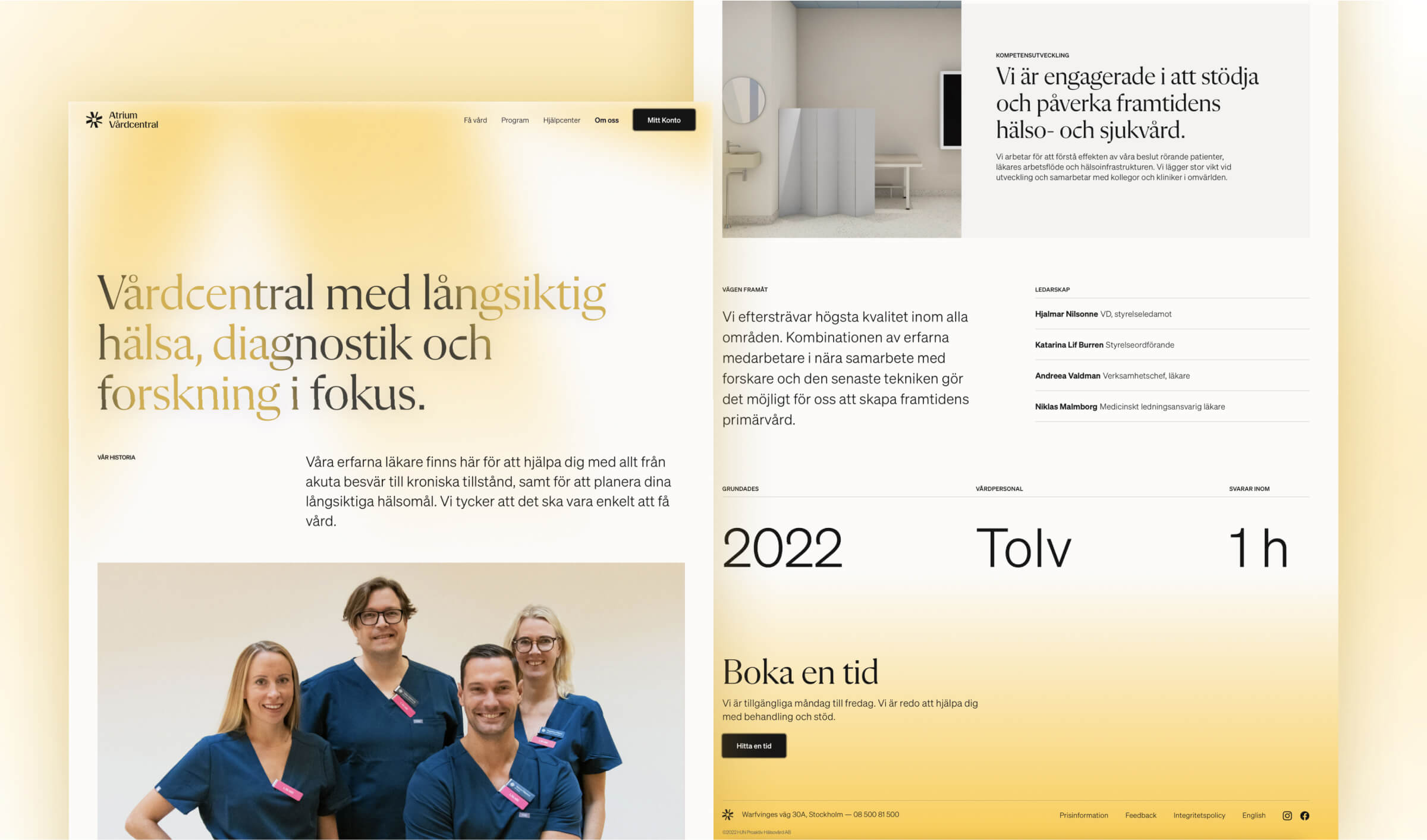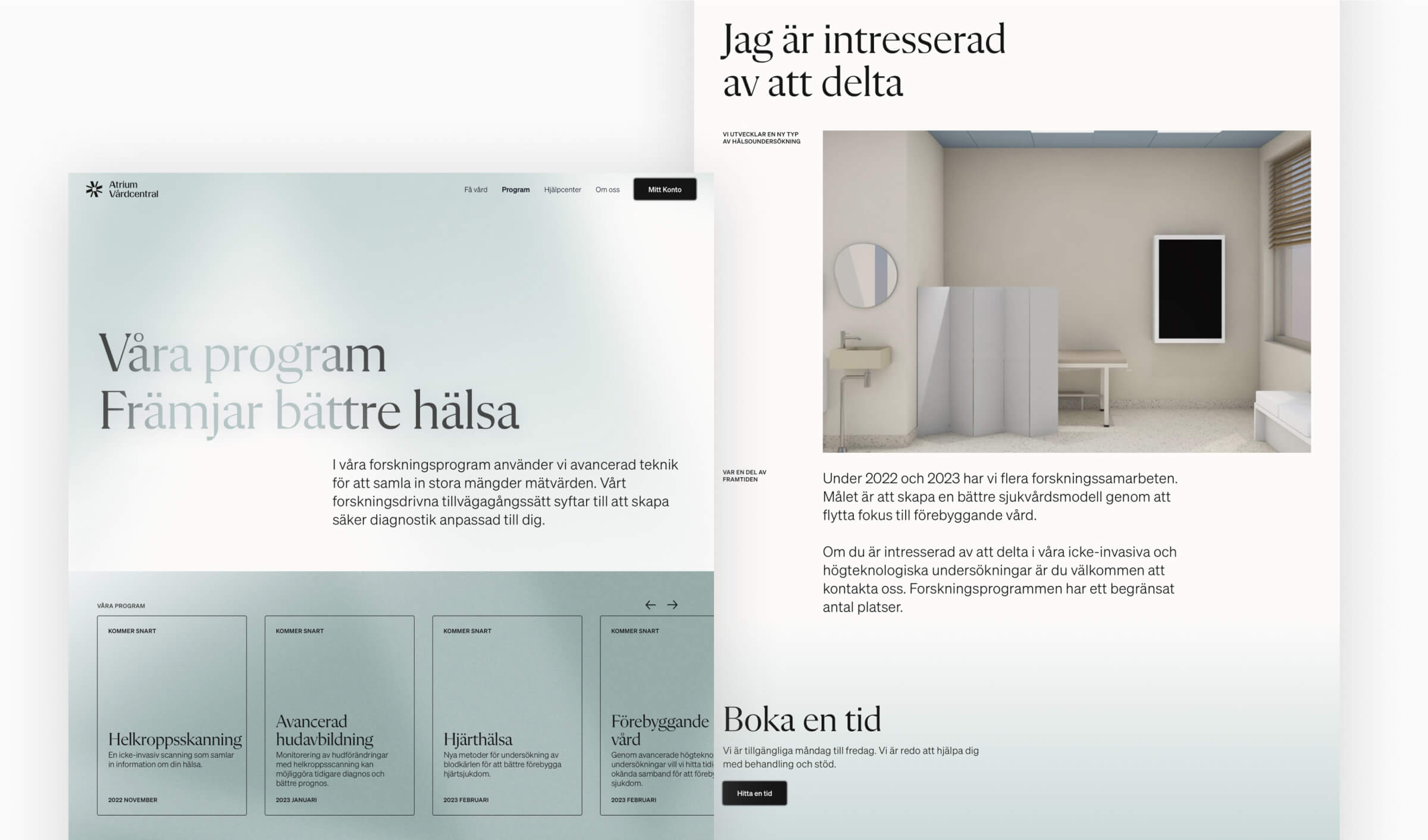 ‍
At the crossroads of digital technology and healthcare, Atrium Vårdcentral stands as a testament to the power of virtual and in person care. The project came with a distinctive challenge; the designs were crafted in-house, and our role was purely developmental. Yet, it was a venture that resonated with our core values of ensuring seamless digital transitions.
Atrium's vision was distinct – to create an online healthcare realm where individuals could not only seek medical care but also be part of progressive health programs aimed at fostering a better understanding of personal health. Our goal was to ensure that this vision transitioned smoothly onto a digital platform that was not only functional but also user-centric.
The heart of Atrium lies in its diverse health programs. From Cardio Alpha, a venture into understanding arterial stiffness and heart disease risk, to Derma Flow Alpha, a delve into quantitative imaging of the skin, each program is a stride towards better health comprehension and care. The 'Program' page on the website is a reflection of this diversity, providing detailed insights into each program and the science driving it.
Moreover, the 'Get Care' and 'Help Center' pages are designed to ensure that help is always within reach, embodying the essence of virtual healthcare. It's about ensuring that quality care is never compromised, irrespective of the digital medium.
The 'About Us' page is more than just a narrative; it's a reflection of Atrium's ethos of proactive healthcare. It's about fostering a community where health isn't merely reactive to ailments but is a proactive endeavor towards better living.
Although our role was confined to development, it was about ensuring that the user experience was seamless, the transitions smooth, and the functionality robust. It was about making sure that every feature worked flawlessly.
The Atrium project is a narrative of how digital platforms can transcend traditional barriers in healthcare, making it more accessible and engaging. And although we were just the developers in this narrative, we ensured that every line of code we wrote resonated with the noble ethos of making healthcare accessible to all.