To celebrate Halloween we've decided to do a roundup of some of our favourite 404 ghost pages. Plus some interesting 404 facts and history.
But wait, before you think this is just another boring tech topic, let's dive into why 404 pages are essential, why they don't need to be dull, and even uncover some spooky stats and history behind these ghostly web companions. Get ready for a thrilling journey into the world of 404 pages!
Why Are 404 Pages Important?
404 pages, also known as error pages or "Not Found" pages, play a crucial role in the web experience. Here's why they matter:
User Experience (UX): Imagine wandering into a haunted house without warning signs or guidance. A well-designed 404 page is like a friendly ghost that helps lost users find their way back to the main site. It keeps your visitors engaged and prevents them from leaving in frustration.
Search Engine Optimization (SEO): 404 errors can harm your website's SEO. When search engines encounter broken links or missing pages, they might lower your site's ranking. By customizing your 404 page, you can retain visitors and avoid SEO penalties.
Why They Don't Need to Be Boring
404 pages are often seen as dull, but they present a unique creative opportunity. Here's how you can make them fun and engaging:
Add Humor: Injecting humor into your 404 page can turn frustration into amusement. Think of witty captions, quirky illustrations, or playful animations that align with your brand's tone.
Provide Navigation: Help users get back on track by including clear navigation links to your homepage, popular content, or a site map.
Reflect Your Brand: Your 404 page is an extension of your brand's personality. Use it to reinforce your brand identity and leave a memorable impression.
Spooky 404 Stats and Facts
Let's dive into some spine-tingling statistics and facts about 404 pages:
Did you know that around 8% of all page views on the internet are 404 errors? That's a significant number of lost users!
The first recorded 404 error message was on the CERN website in 1992. It's come a long way since then. But, you may ask what does 404 mean, where does the number 404 come from, weeellll, room 404; this room housed the web's first servers, at CERN (the European Organization for Nuclear Research, in Switzerland); and World Wide Web inventor Tim ­Berners-Lee had his office there; he also, frequently, could not be found. Of course, as these stories often go, some say it's complete rubbish, sadly we'll never really know. Other stories say that because memory was an issue at the time a long message was impractical, so because client errors fall in the 400 number range, 404 is just a completely arbitrary number assigned to the error.
Some websites use creative 404 pages to entertain users. For example, the LEGO website has a fun 404 page featuring a LEGO man.
In a survey, 71% of users said they'd return to a website with a helpful 404 page.
The History of 404 Pages
The term "404" originated from the HTTP status code system, which was introduced in 1992. It signifies that the requested page is not found on the server. Over the years, 404 pages have evolved from simple error messages to creative canvases for web designers to showcase their skills.
So, 404 ghost pages are more than just error messages. They are an opportunity to engage users, reflect your brand's personality, and add a touch of Halloween spirit to your website. Don't be afraid to get creative with your 404 page, and who knows, it might just become the highlight of your site!
Stay tuned for our roundup of the spookiest and most creative 404 ghost pages in the web design world. You won't want to miss it!
Our list of great 404 pages:
Disney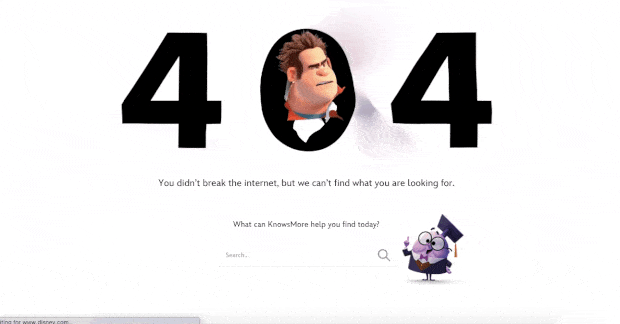 Disney 404 Page
Why we like it: Creative, animated, it is Disney.
OptinMonster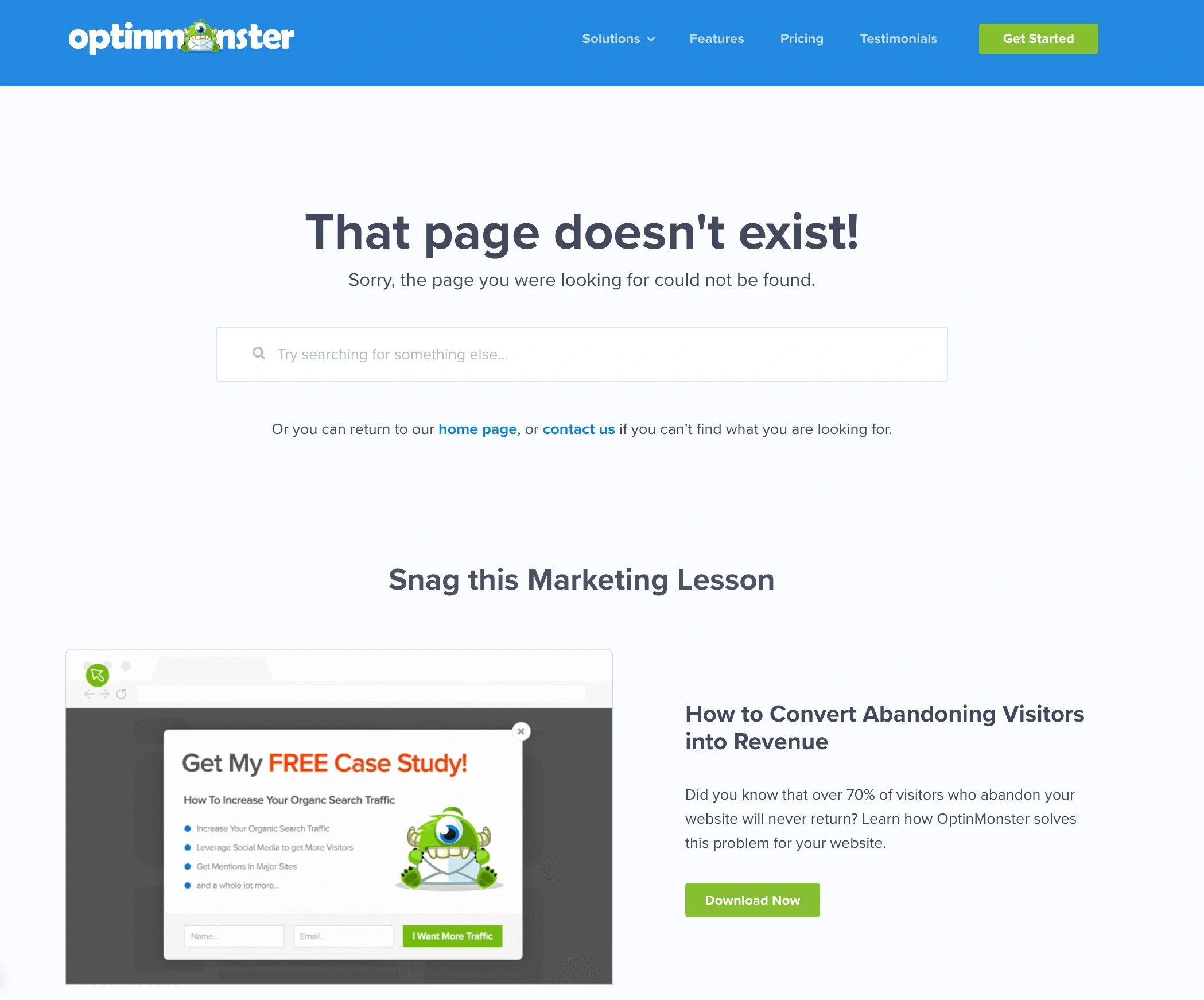 OptinMonster 404 Page
Why we like it: No the prettiest, but functional. It's got a nav, a search so you can find what you were looking for in the first place, and a CTA that allows you to download a free case study.
M&M
M&M 404
Why we like it: It's a worried M&M, what's not to like.
Spotify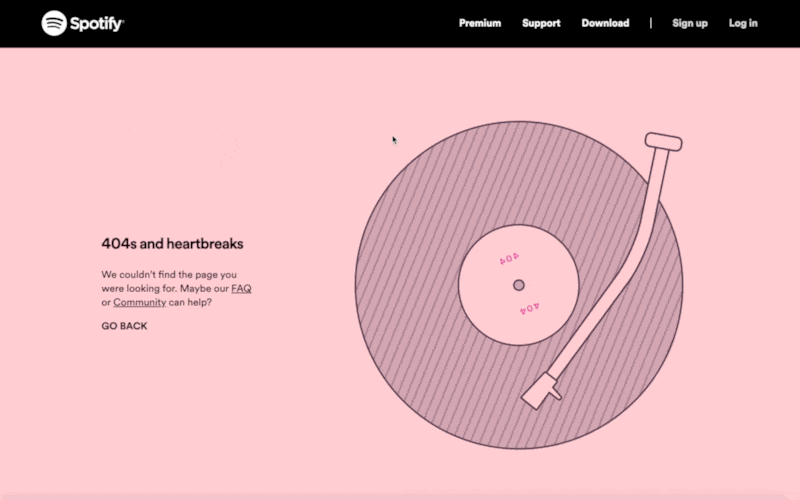 Spotify 404
Why we like it: On Brand, interactive, pretty, gets you where you need to go from here.
Marvel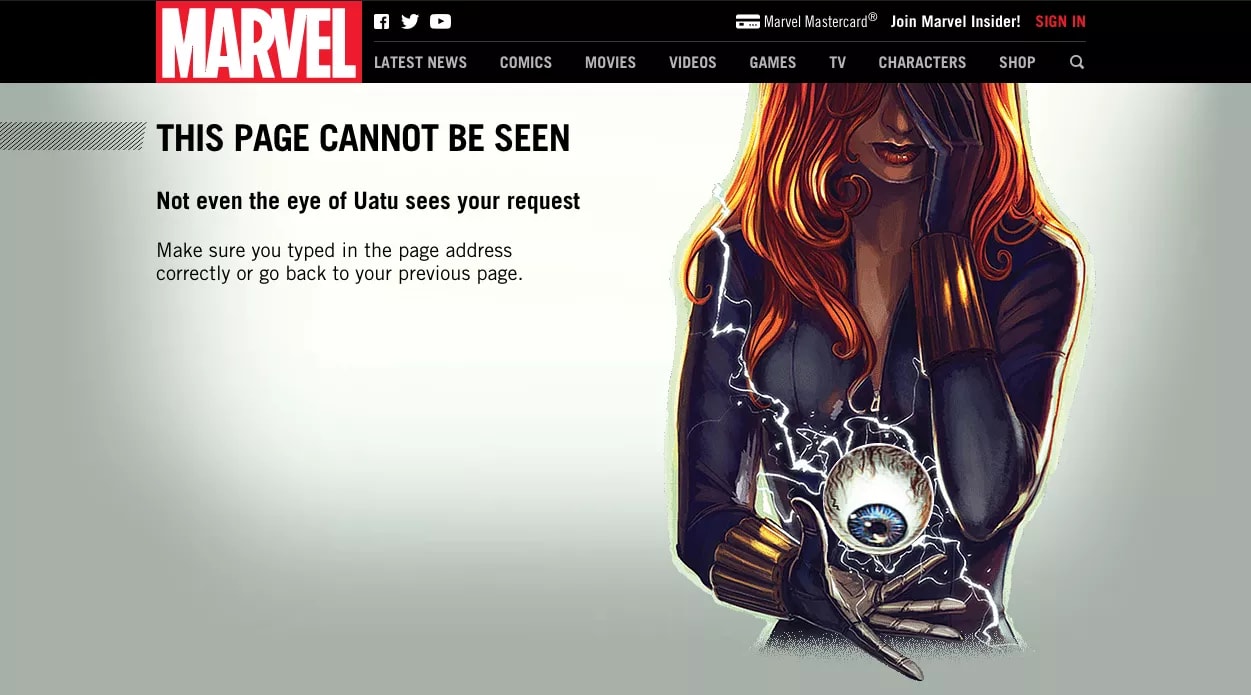 Marvel 404
Why we like it: This one's just fun and creative.
CoSchedule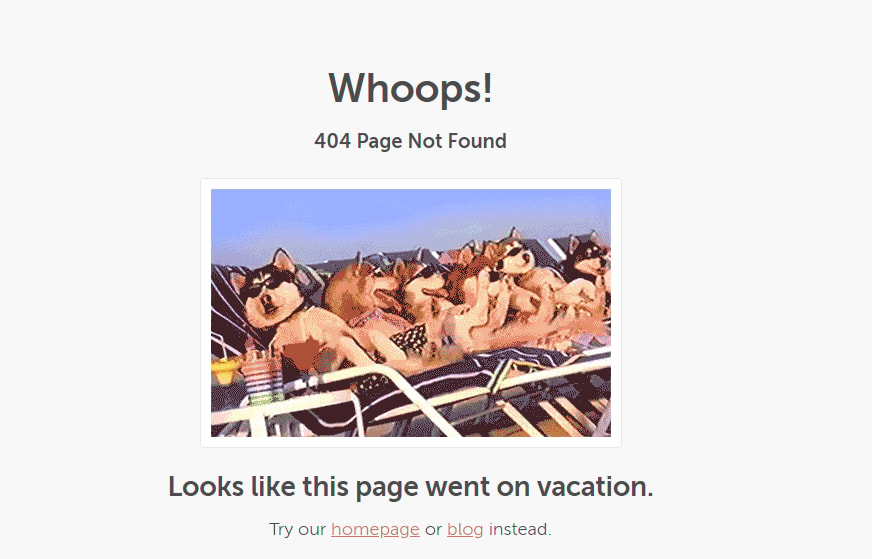 coschedule 404
Why we like it: Because meme
Sprout Social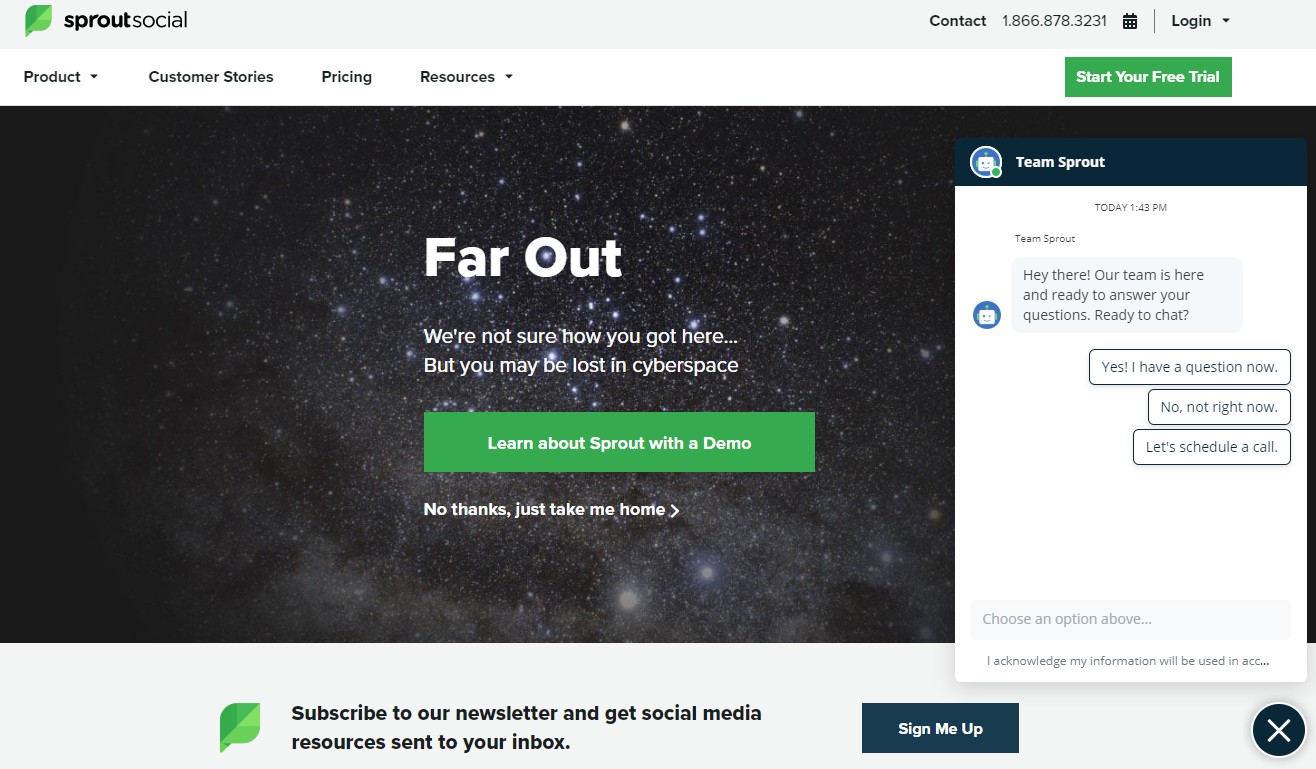 Sprout Social 404
Why we like it: They really want to keep you on the site, it has everything you need to navigate, sign up, get a demo and they live chat is there to help you right away.
Marie Kondo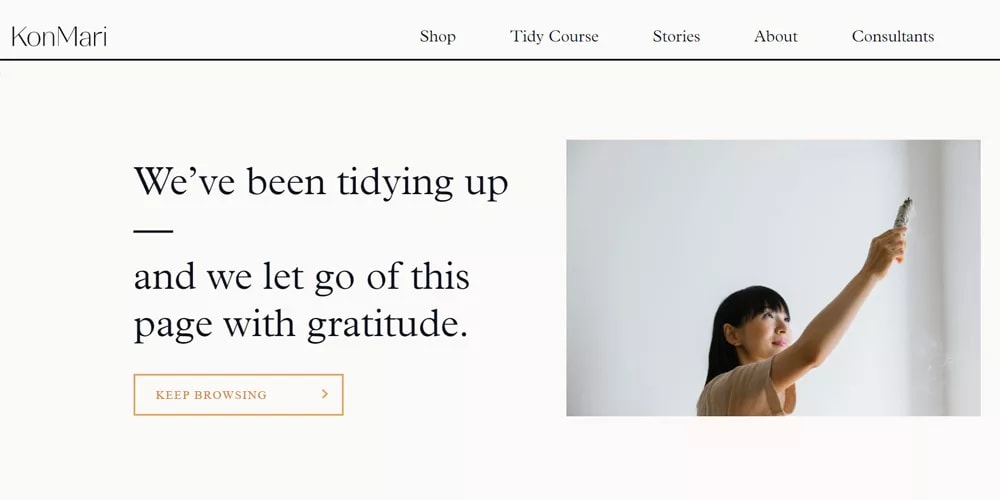 Marie Kondo 404
Why we like it: Not taking themselves very seriously and injecting a bit of fun, "Let go with Gratitude"
Pixar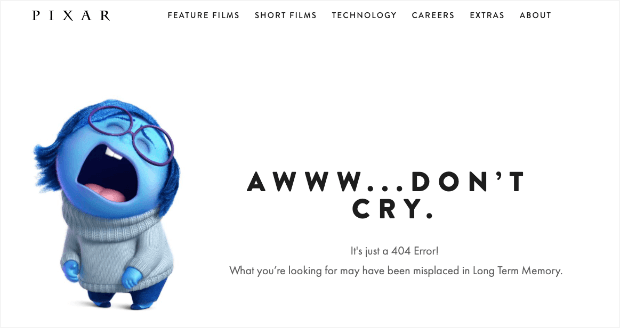 Pixar 404
Why we like it: It's just a 404.
Dan Woodger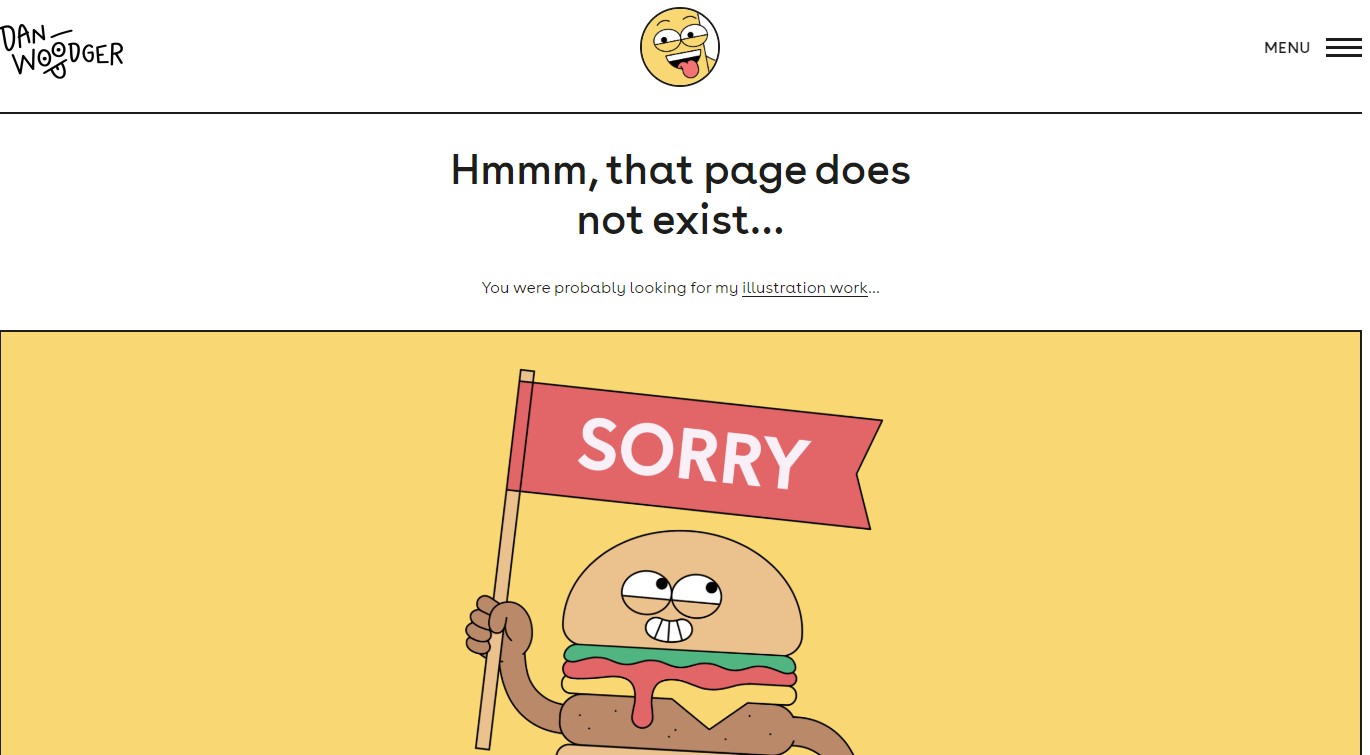 Dan Woodger 404
Why we like it: Features the artist's work.
Dribbble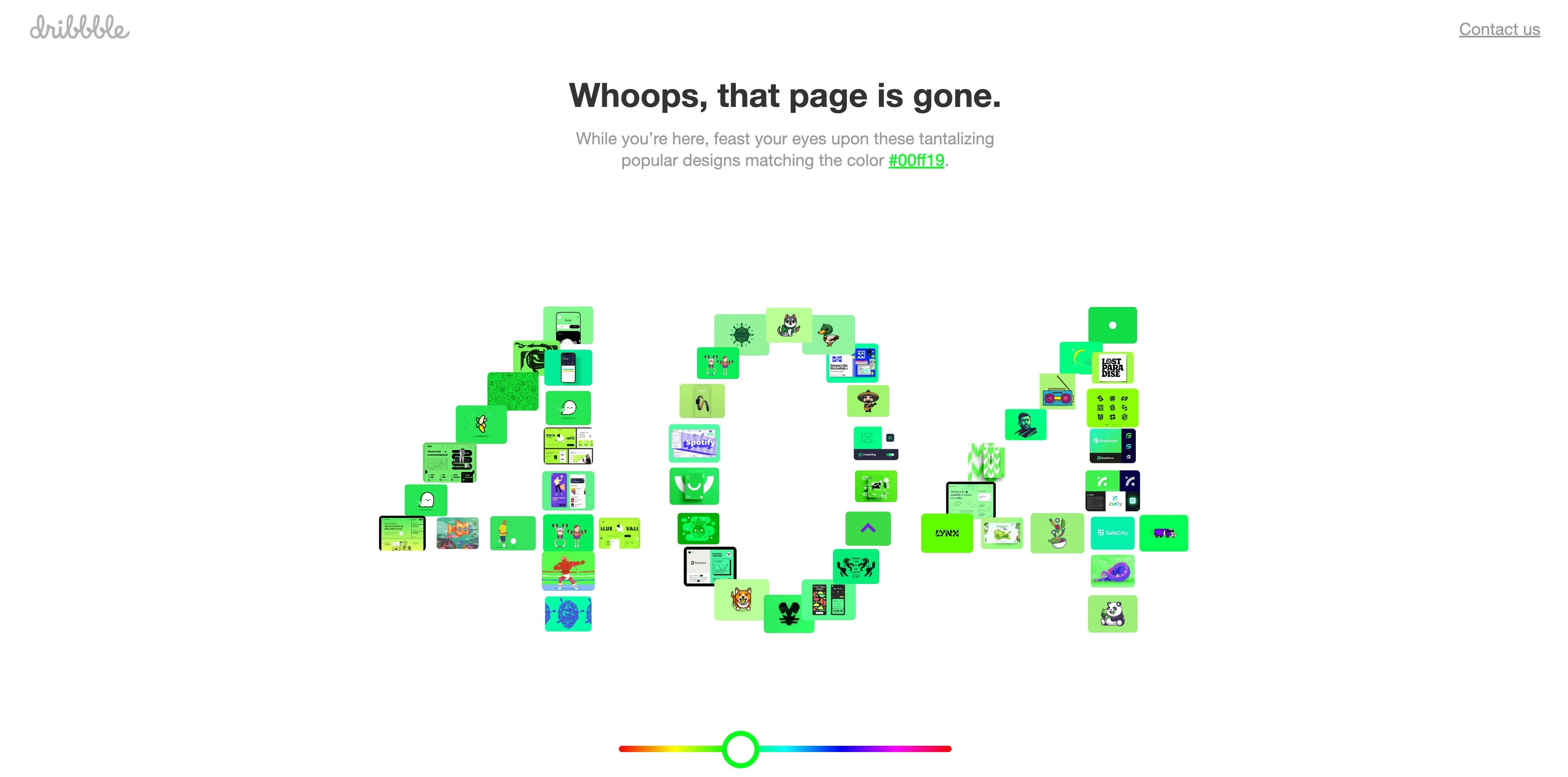 Dribbble 404
Why we like it: Creative and interactive
We hope you like the list, and if you have a favourite, let us know, we love a good 404 page.