When it comes to creating top-notch designs, having the right tools is crucial. And as a designer, one of the most important tools you use is your browser. With the rise of online design tools such as Figma, Framer, and Webflow, the browser you use can make a big difference in your workflow, productivity and overall design outcome. That's why we firmly believe that the Arc browser from the Browser Company is the best choice for designers, developers and anyone who needs to work with the web efficiently.
The Browser Company created Arc with the goal of providing a browser that is tailored to the needs of professionals. They recognized that the way we use the internet has changed, and that the traditional browsers were not designed to keep up with the demands of modern work. They wanted to create a browser that would help professionals work more efficiently and effectively, by providing them with the tools they need to get their work done. With Arc, The Browser Company aimed to provide designers, developers, and other professionals with a browser that is optimized for productivity, speed, and performance, and that is seamlessly integrated with the online tools and services they use every day.
We love what they were aiming for, and we believe they have achieved this, so lets jump in a chat about a few reasons you need to switch now.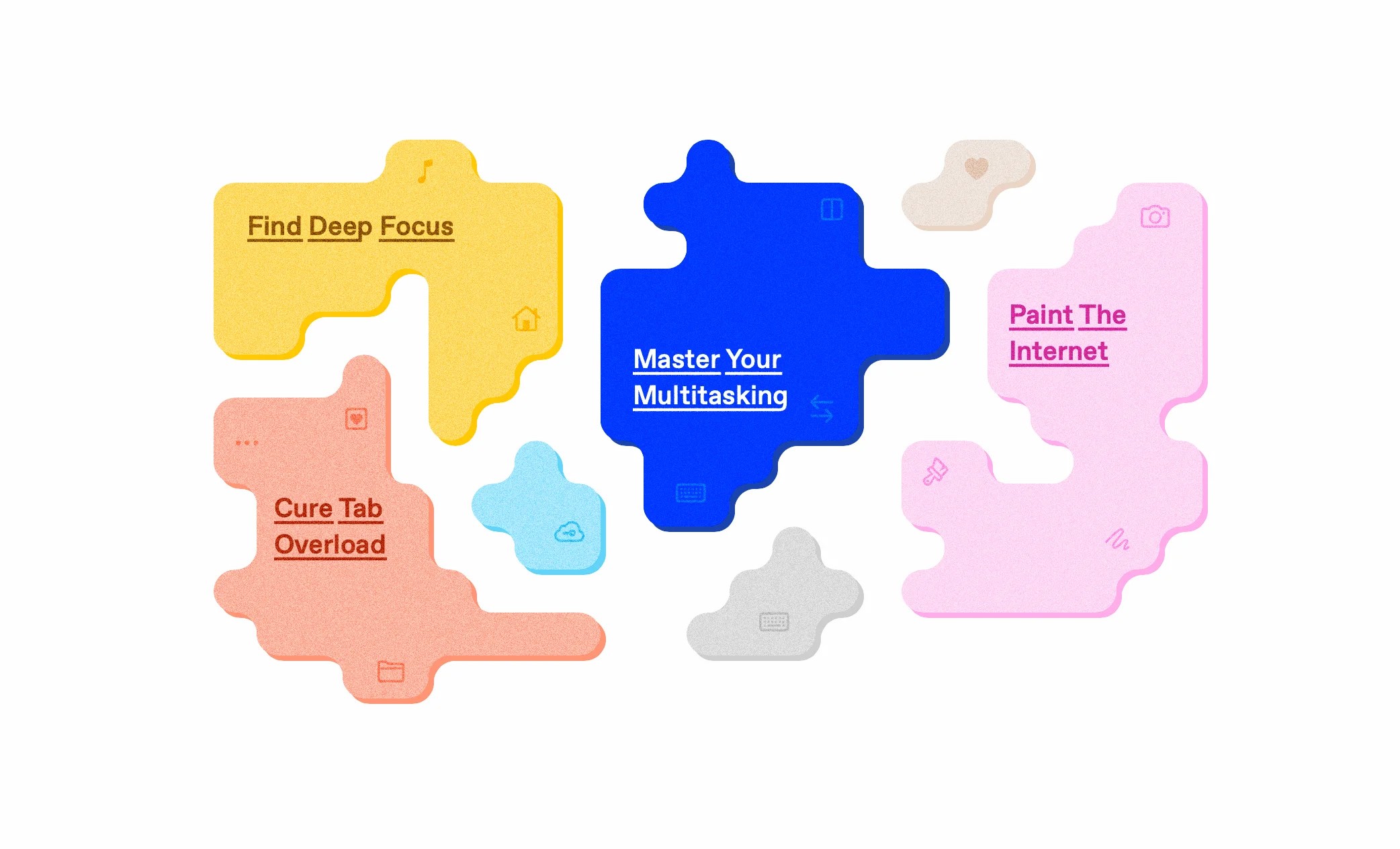 Reasons to switch to Arc
One of the key features of Arc that sets it apart from other browsers is its ability to organize and streamline your work. With Arc, you can create Folders to keep your tabs organized, and use Spaces to group your tabs by project. This allows you to quickly switch between different projects without having to hunt for the tabs you need. All tabs also sit on the left of the screen in a panel you can close if you want, but which makes organization even more streamlined. Additionally, the notes feature allows you to quickly jot down ideas or to-do items without having to leave the browser.
One of our favourite features is Easels. They allow you to easily save and organize your online research, brainstorm ideas, create mood boards, collect inspiration and even write stories. It's a built-in canvas that makes it easy to save and organize information from the internet. You can keep your Easels private, share them with friends or even share them with the public. Capture any information from the web with a click on the Capture button in the URL bar and add it to your Easel.
The browser also has a full featured command bar. The command bar can do anything a mouse can do. Use command bar for things like:
Opening a new tab
Switching to a tab that's already open
Pulling up an extension
Finding a folder tucked away somewhere
Creating a new space, folder, even a Notion doc
Another great feature of the Arc browser is its ability to work seamlessly with online design tools like Figma and Webflow. These tools are becoming increasingly popular among designers, as they allow you to collaborate and work on projects with others in real-time. With the Arc browser, you can easily access and edit your design files from within the browser, and keep the tools you use most in the handy pinned favourites panel right at the top, which means you won't have to waste time switching back and forth between different apps. The Chrome Finsweet extension for Webflow is a great example of how Arc can integrate with these tools and make the design process more efficient.
When you're working with tools like Figma or Webflow in the browser thing can become messy with all the shortcuts we tend to use and Arc is great for this. You can get your workflows in specific sites just right with custom shortcuts, or resolve a conflict between Arc and a shortcut you love. If you're a designer or dev, clicking on the SSL lock icon also allows to to clear Cookies and the Cache for a specific tab without affecting others, a great timesaver!
Because the browser is Chromium based you can visit the regular Chrome Web Store and install all you favourite extensions like the above-mentioned Finsweet Extension that every Webflow expert needs. The browser also includes a Boost feature, which allows you to customise the web and basically create your own extensions to enhance your browsing experience.
Speed and performance are also important aspects when it comes to browsers, and Arc delivers in this area as well. It uses the Chromium engine, known for its speed and performance, which means you won't have to deal with slow load times or lag when you're working on a project, which can be a major time-saver.
For the web app users Arc also offers Previews that allow you to see what's going on in top sites at a glance, without losing what you're currently doing. Previews show you upcoming meetings, let you join Zoom calls right from the sidebar, and let you see the latest design files, PRs, and tickets from your team.
Previews work automatically for sites including:
Gmail, Outlook
Google Cal, Outlook Cal
Github
Notion
Figma
Linear
In addition to these features, the Arc browser also has a clean, minimalistic interface that is easy to navigate. This makes it perfect for designers who want to focus on their work, without being distracted by unnecessary clutter. The browser includes a focus mode to simplify things when you need to get things done and also has a native split view so that you can have that Google Doc open right next to reference site or whatever you're working on simultaneously. The Quick Screengrab feature allows you to quickly capture screenshots of web pages without having to leave the browser, making it easy to share and document your work.
All in all, the Arc browser from the Browser Company is the best choice for designers, we're just a small Webflow studio and our Webflow designers absolutely can't get enough of it.. Its organizational tools, seamless integration with online design tools, speed, and built-in features make it the perfect tool for creating beautiful, responsive websites. So, it's a perfect choice for web designers, developers, and anyone who needs to work with the web efficiently. So, if you're looking for a browser that will help you work more efficiently and effectively, we highly recommend giving Arc a try.
One final note, everything syncs with your normal Google account like Chrome, so it's all there in Chrome on your phone, but start get excited, because mobile Arc dropped last week.
Arc Mobile Companion for iOS
The mobile companion for iOS has finally arrived. Download it here, Arc Mobile Companion.
UPDATE - Latest Gift Code to try Arc
Here's our latest gift code to get an instant invite to Arc. We'll keep updating these. If the link stops working, please pop a comment down below so that we can update the link for you.
Download Arc now with this gift code.